Do you want to jump higher for basketball? Whether you're an athlete who wants to dominate on the court or just someone who wants to be able to dunk a basketball, this blog post is for you. We will discuss ways how to increase your vertical jump for basketball at home without needing any equipment. Stay tuned, because, by the end of this post, you'll be jumping higher than ever before!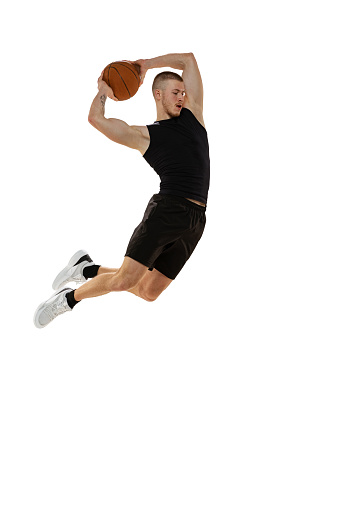 The Best Way To Increase Your Vertical Jump Is By Doing Plyometric Exercises
If you're looking to add a few inches to your vertical jump, plyometric exercises are a great way to do it. These types of exercises are designed to help your muscles generate more power, which in turn can help you jump higher. While there are a variety of plyometric exercises you can do, some of the most effective include box jumps, hurdle jumps, and squat jumps. If you're new to plyometrics, it's important to start slowly and gradually increase the intensity of your workouts. And be sure to listen to your body – if you start to feel pain, stop immediately and rest. With consistency and dedication, you'll be flying high in no time.
You Can Do Plyometric Exercises At Home With Little Or No Equipment
You can do polymetric exercises to increase your vertical jump for basketball at home. Plyometric exercises are a type of high-intensity, explosive training that can help improve your power, speed, and agility. Though often associated with professional athletes and hardcore gym-goers, plyometrics can actually be performed at home with little or no equipment. Simply put, plyometrics are all about training your muscles to generate maximum force in the shortest amount of time possible. This type of training is perfect for those looking to improve their performance in activities like running, jumping, and sprinting. Some of the exercises that increase your vertical jump for basketball at home are:
Box Jump
There are a number of plyometric exercises that can be performed at home with little or no equipment. One popular exercise is box jumps. To do this exercise, simply stand in front of a sturdy box or platform and jump up onto the box with both feet. Once you're on top of the box, quickly jump back down to the ground.
Skipping
Another common plyometric exercise is called skipping. Skipping is a great way to improve your footwork and coordination. To do this exercise, simply start by jogging in place. As you jog, lift your feet off the ground and "skip" forward for a few yards. Then turn around and skip backward to the starting point.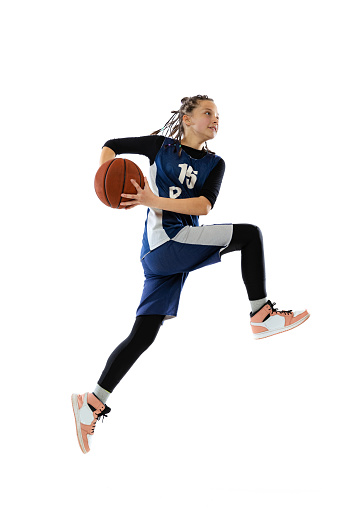 Hurdle Jumps
Hurdle jumps are another excellent plyometric exercise for increasing your vertical jump. To do this exercise, you'll need a few small hurdles or objects that you can jump over. Start by placing the hurdles a few feet in front of you. Then, jump over the first hurdle and immediately jump over the second. Continue jumping over the hurdles until you reach the end of the line. Then turn around and jump back to the starting point. Plyometric exercises like these are a great way to improve your vertical jump.
Jumping Squats
Plyometric exercises are generally characterized by a rapid eccentric (negative) muscle contraction followed by an immediate concentric (positive) contraction. In simpler terms, you can think of it as stretching a muscle before rapidly contracting it. An example of this would be jumping Squats- you lower your body into a squat position and then explosively jump as high as you can.
Lunges
Another great plyometric exercise that you can do at home is lunges. You can either do walking lunges or stationary lunges, however, we find that jumping lunges work best to help improve your explosive power.
Burpees
The last plyometric exercise that we recommend is burpees. For those of you who don't know what a burpee is, it starts from a standing position, then you drop down into a squatting position with your hands on the ground, kick your feet back into a plank position, do one push-up, and then jump back into the squatting position before standing back up tall. Plyometric exercises are a great way to improve your explosive power.
Make Sure You Warm Up Properly Before Starting Any Plyometric Exercises!
Though it may not seem like it, plyometric exercises are actually quite strenuous on the body and can lead to injury if you don't warm up properly first. It's important to remember that any type of exercise, whether it's aerobics, weightlifting, or even just running, puts stress on your muscles and tendons. Without a proper warm-up, you're more likely to injure yourself.
So What Makes Plyometric Exercises Any Different?
Plyometrics is a type of power training that uses rapid movements and explosive jumping to help build muscle. Unlike other forms of exercise, plyometrics places a greater amount of stress on the muscles and joints. For this reason, it's essential that you take the time to warm up before starting any plyometric exercises. A good warm-up will help to increase your heart rate, loosen your muscles and joints, and get you ready for the more intense movements ahead. By taking just a few minutes to warm up properly, you can help prevent injuries and make the most of your workout.
Finish Your Workout With A Cool-Down And Stretch
Once you finish your main exercise routine, it is important to take some time to cool down your body and stretch out your muscles. This will help your body recover from the exertion of the workout and prevent injuries. A cool-down can be as simple as walking for a few minutes to bring your heart rate down gradually. Then, you can stretch each of the major muscle groups. Be sure to hold each stretch for at least 30 seconds. You may feel a little bit sore after your first few polymetric exercises, but this is normal. Just be sure to listen to your body and rest when you need to.
Be patient – You Won't See Results Overnight!
Anyone looking to increase their vertical jump will face a challenge. It takes time and dedication to see results – there's no way around that. However, with patience and a commitment to training, you will see an increase in your vertical jump. How much of an increase? That depends on several factors, including your age, athleticism, and jumping technique. But however much you improve, remember that you've made progress from where you started. So keep at it, and don't give up when things get tough. With time and effort, you'll reach your goals.
Conclusion – How To Increase Your Vertical Jump For Basketball At Home
Plyometric exercises are a great way to increase your vertical jump for basketball. Start with a proper warm-up, then move on to lunges, squats, and burpees. Finish with a cool-down and stretch. Remember to be patient – results won't happen overnight! With time and dedication, you will see an improvement in your vertical jump. Good luck!
Related Posts: